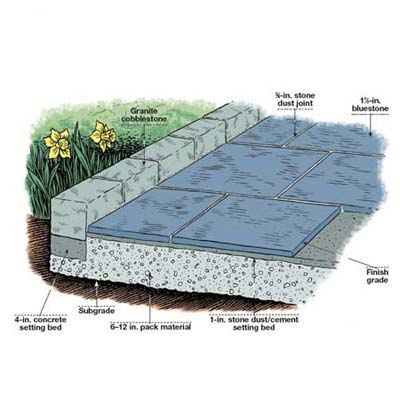 PLANNING AHEAD

•Sketch out the project on graph paper first to minimize cuts, stagger the joints, and estimate how much amterial you'll need. Bluestone comes in rectangles and squares—from 1- to 4-foot-square peices., in 6-inch increments. One ton of stone dust, for a 1-inch setting bed, will cover about 200 square feet. A ton of pack laid at 3-inches will cover 75 sqaure feet.

•Align delivered stone near the side where you will finish the patio so you don't have to retrieve materials over just laid stones.

•Rent a skid-steer loader to clear away debris and dig the patio base.

•Locate and mark any in-ground gas, electric, water or phone lines by spray-painting the ground.

•If you live where the ground freezes or drains poorly, dig down at least 12 inches to save your new patio from being heaved by frost. Those living in mild climates where the soil is sandy and drains well should excavate down to 6 inches.