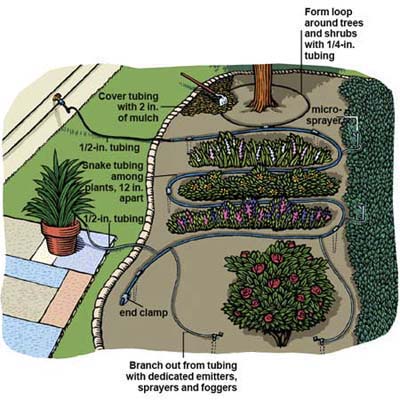 Most of micro irrigation is drip tubing,
¼
-inch or
½
-inch hose fitted with tiny plastic nubs, called emitters, that allow water to drip out at a regulated pace without clogging. The tubing snakes around and among plants and trees to get water into the soil at the roots. You can buy that tubing either prepunched, with emitters factory-installed under the surface every 18 inches, or unperforated, which requires you to punch the holes and attach the emitters to the outside of the tubing yourself. Unperforated tubing can be used to customize a system to an unusual layout or to connect sections of tubing where you don't need water. Some companies also sell soaker hose, laser-perforated rubber that weeps water into the soil without emitters.
All manufacturers have accessories that are specialized for different types of plants—sprays for ground cover, foggers for hanging containers, and single emitters for reaching plants off the grid. But few offer a kit with everything included. You will need to draw a plan of your garden — because micro irrigation requires so much tubing, it is not appropriate for lawns—and map out a configuration of the tubing and accessories, then buy some parts separately. Or contact the drip kit's manufacturer; many will take your garden plans and provide you with an efficient design and materials list free of charge.
Contribute to This Story Below
Tubing Cutter,
bypass pruner or scissors would suffice, but the thick tubing can dull the blades, making them less effective in the garden

Hole Punch,
comes with tubing
1. 1/2-INCH DRIP TUBING
comes in 50-, 75- 100-, or 500-foot rolls, either with or without factory-installed emitters. Calculate the square footage of the area you want to irrigate, then figure on one foot of tubing per square foot of plant bed.
2. 1/4-INCH DRIP TUBING
use this smaller tubing to branch off from the main line and reach specific bushes, trees, or containers.
3. TUBING CONNECTORS
elbow, tee, and straight connectors allow you to turn the tubing without kinking it, or add on more lengths of tubing.
4. WATER SOURCE CONNECTION KIT
for attaching the tubing to an outdoor faucet. Kit should include a vacuum breaker, pressure regulator, a filter, and a connector for attaching the tubing.
5. SPRAY AND DRIP ACCESSORIES
including micro sprayers, small emitters, and foggers for reaching different plants around the garden.
6. BARK MULCH