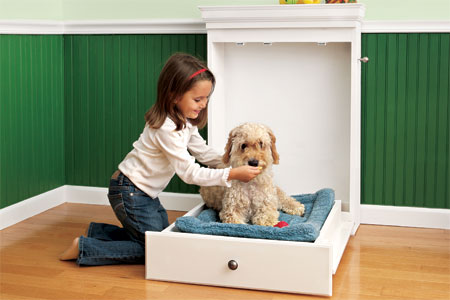 Your dog may be as cute as a button, but the typical dog bed—bulky, obtrusive, matted with fur—not so much. Instead of banishing his sleeping spot to the basement, leave it front and center and build a pint-size Murphy bed that stows a sleeping pad inside a handsome built-in cabinet. The flat top offers a convenient spot for your dog's treats and toys, and when guests are due to arrive you can tuck the bed out of the way with little fuss.
Before you dash off to buy materials, size up your pooch and the room he'll sleep in to make sure you've got enough space. (A Murphy bed for a Great Dane will be a mighty big piece of furniture.) The easiest way to size the bed is to make it large enough to hold a pad or mattress that your dog is comfortable sleeping on; check product labels for the size that suits your breed. If you're not using a mattress, get the bed's dimensions by measuring your dog's length and width while he's noozing, then adding at least 6 inches to each number. Whether he sleeps on a mattress or a favorite old blankie, your dog will be glad to have a bed of his own—one that's tidy enough to put in any room.
You can
download a parts diagram and cut list here
.