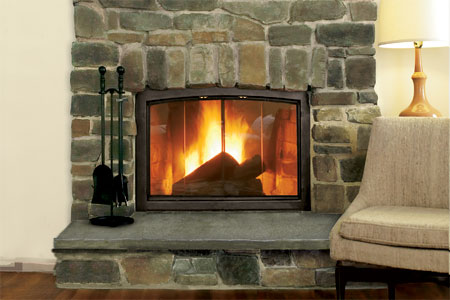 There's something so homey about a stone fireplace, bringing to mind cozy nights spent with loved ones in front of a blazing hearth. For those who think that using real stone is the only way to get this look, think again: Today's cast-stone veneer looks a lot like the real thing, with styles ranging from stacked stone to river rock. And if its nicer price tag makes it an option that's hard to pass up, the DIY-friendly installation will seal the deal. As senior technical editor Mark Powers shows us, it takes just a few days to build a base for the stones and mortar them to your fireplace for a timeless look that will warm up your holiday gatherings for years.

Contribute to This Story Below
Stud finder

Staple gun

Hammer

Finishing trowel

Tiling trowel with 3/8-inch notch

Grinder fitted with a diamond masonry blade

Brick trowel

Brick hammer

Grout sponge or spray bottle

Grout bag

Masonry striking tool

Whisk broom
1. Stone veneer.
Get about 20 percent more than you need to cover your fireplace, to accommodate fit and breakage.
2. Builder's felt.
It acts as a moisture barrier between the mortar and your walls to prevent water damage.
3. Metal lath to install over the felt.
It keeps the mortar in place, creating a base for the stone veneer.
4. 3/8- or

½

-inch staples.5. 15/8 -inch galvanized roofing nails.6. Veneer mortar.
It contains special additives to create a strong bond between the stone veneer and the surface to which it's attached.
7. Plastic sheeting.
Tape it to your walls, floor, and hearth to protect them while you work.
8. Painter's tape.9. Old drop cloth
(optional).