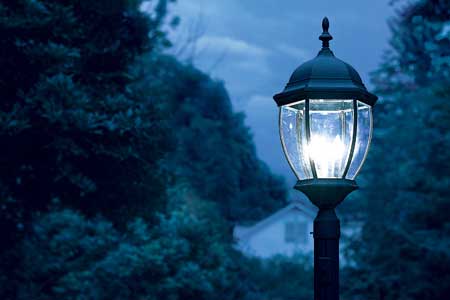 Let there be light - at least enough for people to see what treacherous terrain might lie underfoot as they approach your home. Illuminate the topography with a lamppost, which will light the way for weary travelers and homebound housemates alike. Installing one is simpler than you might think. A hole filled with concrete keeps the post straight, and a narrow trench from the house carries the wiring - you could do that all in a day, as This Old House technical editor Mark Powers shows here.

Hooking up the wiring to the main box and adding a switch - for that you should hire a licensed electrician, but there's no reason you can't install the post and run the wiring yourself. There's even some added satisfaction for your effort: Your guests will thank you for your hospitality that much more when they can actually see their way to your front door.
Contribute to This Story Below
More in Plumbing, HVAC & Electrical
Posthole digger

Screwdriver

Trenching spade

Wire stripper

Masonry hoe and wheelbarrow

2-foot level

Hacksaw,
to cut PVC conduit

Shovel and concrete float

Rope or strapping and stakes
1. LANTERN
(the fixture that sits atop the post). Lanterns and posts usually sold separately.
2. POST
These come in only a few styles: fluted, not fluted, with or without a crossbar. It's best to order posts from the same manufacturer as your lantern, to ensure that the finishes match.
3. WIRE
You'll need enough UF-rated exterior wire to reach from inside the house to the post outside, plus an extra 9 feet to run up through the post. 12-gauge wire will suit both 15-and 20-amp circuits.
4. CONDUIT
To meet code for burying wires undergorund, you'll need 3/4-inch "Schedule 40" PVC pipe. Get enough elbows and couplings to make any necessary turns coming out of the house, down to the trench, and up to the post from the ground.
5. PVC CEMENT
to adhere the conduit together
6. 3/4-INCH GRAVEL
to fill the bottom 6 inches of the posthole
7. CONCRETE MIX
Two 80-pound sacks should be enough to creat a 12-inch wide and 16-inch-deep footing.
8. WIRE NUTS
to connect the wiring on the lantern. These are color coded by size; yellow should work for 12-gauge wires, but be sure to also check the range of sizes on the packaging.