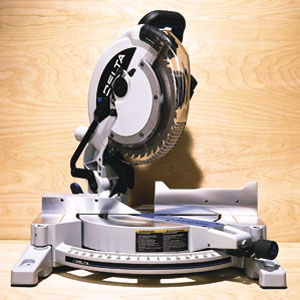 A power miter saw is one of the handiest tools around. Nothing beats it for making totally accurate 90-degree crosscuts, the most common cut. But it can also pivot to make perfectly angled miter cuts, and some models even tilt to make compound angle cuts.

Precision is what makes miter saws so indispensable. Because the blade is fixed to a sturdy arm on a heavy body, cuts can be fine-tuned to the width of the blade. "You can shave off little bits until you get a perfect fit," says Tom Silva, This Old House general contractor. That stability, along with built-in blade guards, also makes miter saws safer than other power cutters.

There are some things miter saws can't do. They can't rip lumber to width or cut very wide stock, and many only tilt one way. But sliding arms can increase cutting reach, and some tilt two ways to make complicated cuts easier. Keep in mind that with added features come more weight and higher cost. In this article see which saw has the features you want, and Tom's tips for using miter saws correctly.