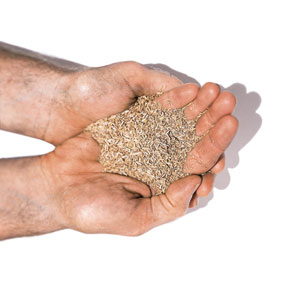 Now's the time to reseed your lawn. So which seed do you choose? Looking at the slim selection in most garden and home centers, you'd never guess that there are hundreds of varieties available today, bred to address any problem you're likely to encounter: drought, damp, disease, heavy traffic, insect infestations, and too much or too little sun. You can even customize your turf for color and other decorative effects.

Plant scientists, including those at the University of Rhode Island, home of America's first turf research program, have turned out an amazing number of improved turf grasses over the past three decades. "Right now, if homeowners took advantage of current plant breeding successes, they could have a consistently beautiful lawn with a high degree of insect resistance and traffic tolerance, even under the most challenging circumstances," says URI professor of plant sciences W. Michael Sullivan, Ph.D.

The key is finding the right grass variety — or mix of varieties — for your conditions. In the U.S., turf grasses are divided into two basic categories: cool-season grasses for the North and warm-season grasses for the South. While all northern grasses can be grown from seed, many southern grasses, especially the improved ones, can only be grown as sod or from sprigs — small, rooted plantlets. If your lawn has mixed conditions — some sun and some shade, some spots where water collects — consider a species that grows reasonably well on various sites (such as a fine fescue for sun and shade). Or combine the strengths of two or more species with similar color and texture (for example, mix perennial ryegrass, for its quick germination and wear tolerance, with Kentucky bluegrass, for its longevity, cold hardiness, and sheer good looks).

Here, URI's Professor Sullivan puts the latest research to work for you, suggesting turf grasses tailored to specific situations. Most of the varieties are recent introductions, but some are longtime standards. If not available at a store near you, all can be mail-ordered in quantities from 1 to 50 pounds, for about the same price as over-the-counter mixes (sprigs, however, can cost three times as much as seed). Keep in mind that turf-grass performance varies according to climate. For the best varieties of any turf-grass species for your area, check with a local nursery or cooperative extension office.