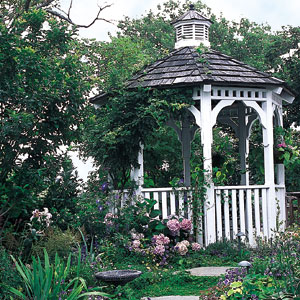 Say "gazebo" and what springs to most people's mind is an octagonal white garden building at the end of a long sweep of lawn. Although many gazebos do fit this traditional gingerbread-trimmed image, today's versions are just as likely to be square, rectangular, or round; have sleek lines; and sit close to the house, to encourage outdoor dining. They can even be built right into a porch or onto a deck, patio, or pool surround.
For Kathryn Keele, a homeowner in Pasadena, California, the formal redwood gazebo in the rose garden just steps from her Tudor-style house is a welcoming retreat. "It's very peaceful and private, but because it has lights and stereo speakers built in it's also wonderful for entertaining. We can squeeze six chairs around the table, but it's comfortable with four," she says of the 12-foot-wide pavilion painted deep hunter green.
Putting One Up
A gazebo is generally defined as a freestanding, open-sided structure with a solid roof and (usually) a floor, though designers are constantly reinterpreting the form. While traditionally made of wood, gazebos also can be built of metal, stone, or even reinforced concrete. Cedar and redwood are top wood choices for their stability and weather resistance, and both can be painted or left unfinished. Pressure-treated lumber is a less expensive option, but it should be covered with a semitransparent stain. Floors, which are often raised by one or two steps, may be wood, brick, concrete, or stone. Most often, the roof is clad in cedar shakes, though other materials, including copper and slate, may be used, particularly to echo that detail of the main house.
There are three basic approaches to putting up a gazebo: building one from a set of plans, putting together a kit, or commissioning an original design.
Building one from scratch requires excellent carpentry skills — and a good set of plans.
Gazebos & Other Outdoor Structures
(Creative Homeowner, $15) is an excellent resource for those with the requisite experience.
This Old House
master carpenter Norm Abram built a screened 8-foot-wide gazebo suitable for a pair of benches or Adirondack chairs; plans ($15) are available from the New Yankee Workshop (
www.newyankee.com
). A more manageable do-it-yourself approach is to assemble a gazebo from a kit. If you don't have the time or inclination to put it together yourself, hiring a contractor to do it for you can still be a good way to get a quality structure built quickly. Expect to pay $500 and up for labor, plus the cost of the foundation.