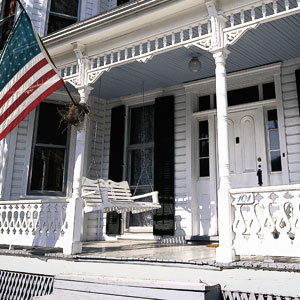 A porch swing isn't just a piece of furniture, it's a state of mind. Hop on, sway for a bit, and you're transported to a stress-free zone. Just ask Suzanne Henninger, who owns a weekend cottage in Seaside, Florida, where the front porch features a swing painted a cool blue. "I get my cup of coffee and head there first thing in the morning," says this health-care company vice president. "I listen to the birds, smell the ocean air, and slowly rock. It's heaven."

Even the simplest porch swing offers a taste of gracious living, perhaps because it's a reminder of more genteel times. Such swings became popular in the mid-1800s, an era known for houses with wraparound porches, when Americans began enjoying more leisure time. They were particularly favored in the sultry South, where they provided a much-appreciated artificial breeze.

While metal and wicker versions are available, most porch swings today are wooden, made from teak, cedar, pine, maple, or oak. Seeing a beautiful antique swing in Newport, Rhode Island, led This Old House master carpenter Norm Abram to craft his own, out of plantation teak. "Teak is very strong as well as rot resistant, so it can hold up to the outdoor environment. And it weathers beautifully," says Norm, whose design was inspired by a classic English garden bench. Indeed, swings made of teak ($500 to $1,000) or cedar ($250 to $400) are meant to weather in the elements, turning silvery or dark gray. Some homeowners may prefer a painted swing, either crisp white or a color that complements their porch or exterior trim. In that case, a less expensive pine, oak, or maple swing ($150 to $400) can be coated with exterior trim paint or high-gloss porch enamel to suit.