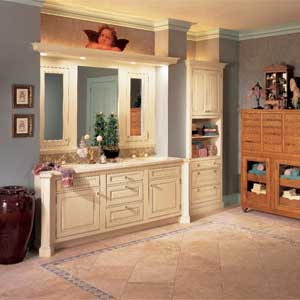 The vanity gets no respect. We use a word that means self-satisfied and frivolous for one of the most important fixtures in the house. The bath vanity is one of the first stops we make each day and the place we retreat to when we need to freshen up. The vanity has to be tough enough to weather drastic changes in heat and humidity as well as stand up to soap scum, toothpaste, and makeup. In many bathrooms, it's the only storage space available. And it must hold up its end in the decorating department. Fortunately, they not only do what we expect of them but there is a lot to choose from — everything from simple boxes you can find at the local home center to made-to-order cabinets. Prices vary too, but you don't have to break the bank. You can put in a new vanity, counter, and sink for about $250; even one with a solid-surface counter and integral sink can be had for as little as $325. WORTH RESCUING?
As with kitchens counters, vanities are made of separate components — cabinets, counters, and sinks (or an integral top that combines these last two items) — that are usually assembled on site. A tired and dated vanity is often the eyesore that prompts homeowners to remodel a bathroom, but that doesn't always mean you should tear out and toss the whole assembly. Consider replacing that gaudy cultured-marble or laminate counter, but spruce up the vanity cabinet itself with a coat of paint. Unless you need a different-size vanity, refurbishing your old vanity can save you up to $200 and no one will notice the difference. You can even improve its storage capacity with add-on accessories like baskets, shelves, and lazy Susans. But make sure the vanity is worth the time and trouble. Check the operation of doors and drawers, and make sure water from the shower or tub hasn't gotten into the cabinet sides or toekick. And if you're installing additional cabinets, say a linen closet or above-toilet units, make sure you can match the style of the existing vanity if that's important to you. CABINET OPTIONS
Today's vanities offer more styles and options than they did in the past, and they have gotten taller. Heights range from the one-time standard of 30 inches up to 36 inches. You can tailor the size to the user, and in two-vanity bathrooms you can mix heights and banish stooping altogether. Vanities are also available in several depths from 18 to 24 inches. Deeper cabinets provide more storage and counter space, while shallower units free up valuable floor area. In addition to new sizes, you'll find features like slide-out trays, wire baskets, hanging wastebaskets, and tilt-down drawers in front of the sink. Details you usually find only on fine furniture, such as carved panels and molding, are also available on some cabinets. Bath cabinetry comes as custom, semicustom, or stock. Custom cabinets are made to your exact specifications, and are generally the most expensive choice — cabinetmakers charge upwards of $60 per hour. However, if your bath is small or unusually shaped, custom cabinets will let you make the most efficient and attractive use of every inch. Order this type from a kitchen or bath dealer or a designer, or directly from a cabinetmaker. Leave 6 to 10 weeks for delivery. Semicustom cabinets are factory-made units — you pick the door style, finish, materials, size, and storage features. Again, you'll need to buy through a showroom. With semicustom units you give up some of the options you get with custom cabinets, but you gain in delivery time and price. Expect delivery to take at least four weeks. The price for a 36-inch unit starts at about $315. Stock cabinetry is made in standardized sizes and finishes. Basically, you get what you see in the store, but in the last few years more options have become available. Stock vanities are a good choice for many bathrooms. Traditionally, the "stock" label indicated questionable quality. That's no longer true. There's a wide range of materials, features, finishes, and warranty periods in this category; if you shop a little you should find a vanity that meets your standards at a decent price. Stock units are available in home centers and other retail outlets. A plywood unit with an oak veneer starts at about $100.