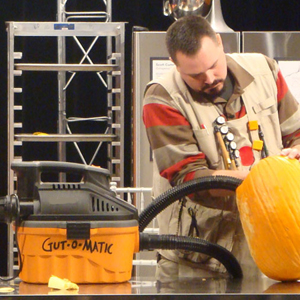 You've seen their creations in our
Inspirational Pro Pumpkin Carving
gallery. Now, here are the expert carvers' tips for every step of the pumpkin-carving process. Follow their advice to create a potentially award-winning pumpkin, and
enter our annual Pumpkin-Carving Contest
for your chance to win prizes and be featured on
This Old House
website.
SELECT IT
Want to go traditional and carve a gourd straight from the patch? Or would you like your creation to last forever by carving a synthetic pumpkin? Whichever one you choose, make sure you consider your design or pattern when selecting a gourd. Get one large enough and in a shape that will accommodate the length and width of whatever design you're going to carve into it. And before you leave the pumpkin patch, Ryan Wickstrand of
ZombiePumpkins.com
recommends the following: "Make sure it can stand well on its own, and never carry a pumpkin by its stem."
If you dread seeing your hard work turn to mush—even with good care, a carved pumpkin will last only a couple of weeks (see "Preservation," below)—consider an artificial pumpkin, such as those available from
Funkins.
They have precut holes in the bottom to accommodate a flameless light source, the pumpkin walls have already been "shaved" down to a thickness of
½
-inch (ideal for carving).
CARVE IT
The key to safe carving? Sharp tools. With properly sharpened carving saws and knives, you won't have to use as much force while carving, which reduces the chances of accidental slips that can result in injury. When carving artificial pumpkins, don a mask and goggles to protect yourself from carving dust.
"Nothing slurps out messy pumpkin guts like a good, strong wet/dry Shop-Vac," says Scott Cummins of
PumpkinGutter.com
(image 1). But if yours is out of reach, he recommends scraping out pumpkin guts with a margarine container lid or an empty tuna can. Wickstrand is a fan of the Pumpkin Gutter (not affiliated with Cummins's site), a special drill bit that grips pumpkin gunk and quickly shaves down the inner pumpkin wall.
For increased stability, carve out the smallest pieces first, then work your way up to the larger cutouts. "In fact, it's wise to leave the cut shapes wedged in place until you are finished cutting all the lines. This will provide added support until you're done carving," says Wickstrand. Once all the cuts have been made, pop out the sections with your finger.
Some pros carve freestyle. But using a template to lay out your design on your pumpkin prior to carving can help ensure the look of your jack-o'-lantern. For a This Old House-style pumpkin, you can download our templates:
• Download the exclusive TOH pattern:
Scary Second Empire
• Download the exclusive TOH pattern:
Creepy Queen Anne