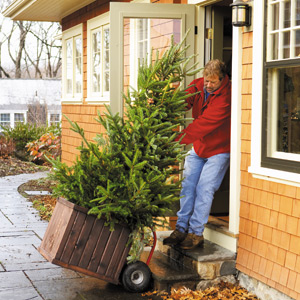 An Evergreen Tradition

Decorating the family Christmas tree is among Claire Younker Moe's fondest childhood memories. But as an adult, the tradition held less allure. "It's not that I'm 'Bah, humbug,'" Claire says. "I just can't get into spending all that money on a dead tree." Many years she went without. But then she had a son and felt guilty about denying him such memories of his own. So Claire and her husband devised a new seasonal strategy: They buy a live tree to trim indoors, and after the ornaments are packed away they plant it on their three acres on Bainbridge Island, Washington. "It's an old farm," Claire says, "so trees are limited. This way, we are helping re-tree the property. And we'll have it for years to come."

For starting or continuing a family tradition, a live tree offers a distinct advantage over the cut variety. "You can look at it every year and think, 'Remember when we did that?'" says This Old House landscape contractor Roger Cook. "It's fun for kids because you can point to it and say, 'That's your tree.' You can't do that when the tree's ground into wood chips."

A live tree offers practical benefits, too. It is fresher, so it's more fragrant. It's not as tippy as a cut tree in a stand (though it can take time to level the root ball in a container). And in later years, the planted tree can extend holiday cheer outdoors when strung with all-weather lights or edible garlands for birds to nibble.

Live trees do come with limitations, though. They can cost twice as much as cut ones. If you like decorating long before Christmas, the tree can't be central to your scheme because it won't weather much more than a week indoors. It requires more muscle to get in and out of the house—a 6-footer with its root ball can weigh up to 250 pounds. And if you live in a region that experiences a hard freeze in winter, you'll need to plan ahead so you have a place to plant the tree after the holidays.

But these are all minor inconveniences when you consider that once the tree is in the ground, it adds value to your landscape and serves as a reminder of your family's yuletide fun. Read on to learn what to do now, come Christmas, and after the holidays with help from Roger Cook.