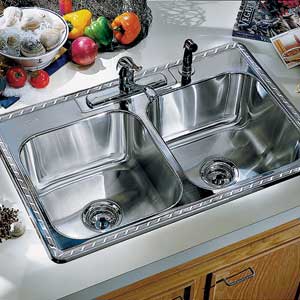 The kitchen may be the heart of the home, but the sink handles most of the daily chores. That's because it's the only working area used to both prepare meals and clean up after them. Although quality sinks can last 15 years or more, they do wear out. Finishes start to dull or chip, and annoying leaks appear mysteriously around the rim and drain. And if you're planning a kitchen remodel, it makes sense to replace your sink and faucet.

Manufacturers offer sinks in a variety of materials and styles, from gleaming stainless steel and durable porcelain on cast iron to several newer materials. Sinks are also one of the lowest-priced components of a kitchen remodel. Although some high-end models carry four-digit price tags, there is a wealth of well-made sinks on the market starting at around $200.

We'll cover buying a quality kitchen sink that won't break your budget and tell you what to look for in a pro installation. We'll also discuss some developments in the faucets section, including the latest styles, colors and features, and the companies that offer them.

Sink Size Vs. Kitchen Size?
With so many options — single bowls to multiple bowls of different sizes, shapes and depths — you need to consider the size of the room and how you'll use the sink. Large multibasin models, which are popular right now, will overpower a small kitchen.

The National Kitchen & Bath Association, an industry trade group, suggests a standard 22X24-in. single-bowl model for kitchens less than 150 sq. ft. (the bowl itself measures about 16X21 in.). For larger kitchens, you can consider the added convenience of double and triple bowls that allow you to stack the dishes in one bowl while you rinse off vegetables in the other. Multibowl models start at about $200, and you'll pay 5 to 10 percent more for sinks with bowls of different depths.

Many designers specify one main sink and a smaller bar sink for large kitchens. Don't go for a second sink unless there are two or more cooks in the house who prepare meals at the same time. Even then, you'll have to determine if the plumbing upgrade and the $400 or so for the sink and faucet are worth it.

Whatever size and bowl configuration you choose, you'll also need to select the type of mounting you want. This is both an esthetic and a practical decision as described above.

You'll also need to specify the number of holes in the sink deck. This number will range from one to five, depending on the faucet and the number of accessories like spray hoses and soap dispensers you add.

Still another consideration is color. A colorful sink can be a nice accent, but remember you'll typically pay 15 to 40 percent more for anything other than white.

Finally, don't be surprised that your new sink doesn't include a drain strainer; it costs extra. A good one in stainless steel runs $10 to $15. Match the strainer to the sink; those designed for stainless sinks aren't long enough for cast-iron sinks.

You'll be living with your new sink for a long time, so choose carefully. A well-made sink will last as long as you need it and maintain its good looks as well.