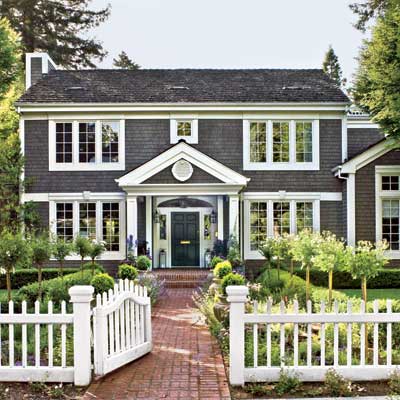 »
Updated Interior, Classic Exterior
Seen from a distance, some houses have the grace and proportions of timeless classics. Inside, however, the style may be more of the moment, and not in a good way. Which is why Emily and Bryan Kelly can be forgiven for taking a sober look inside their newly purchased house in California's Silicon Valley and texting their interior designer: "SOS."

While the facade evoked traditional Colonial style, the interior suggested late-1980s McMansion. In the foyer, topiary nested in a wall niche, and stairs rose from an ocean of checkered ceramic tile before making a U-turn over an arched passageway. The family room was sunken.

Shown: The house has an added-onto-over-time look that keeps the facade from looking too formal.

Contribute to This Story Below