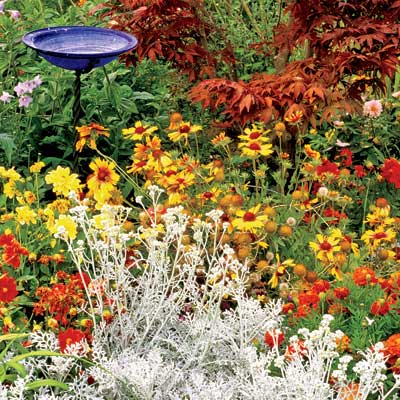 »
High-Impact, Low-Cost Summer Garden
By August, most perennial gardens look more than a little weary. You can tidy up a bit by clipping off spent flowers, but sorry-looking foliage may be all that's left. Yet even on the hottest days of late summer, a garden can be ablaze with color, as Kay Burdick's Idaho garden proves.

Shown here as they look in late August, the undulating beds are packed with combinations that work even in tiny yards. To get her glistening show of golds, reds, and oranges accented by whites and purples, Kay grows a well-planned mix of perennials and annuals—especially marigolds, whose seeds she saves and replants year after year, costing her nothing. Keep reading to see how you can do the same.

Shown: Marigolds, asters, zinnias, and greenish-white dusty miller put on a robust late-summer show.
Contribute to This Story Below