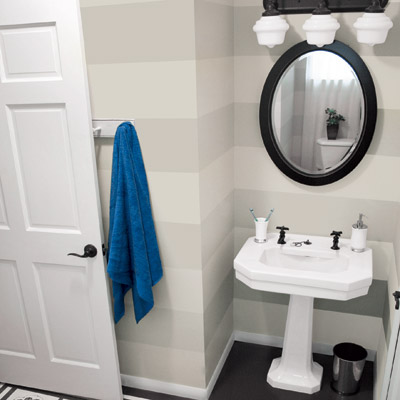 »
Low-Cost Luxury
Even in long-haul remodels, some spaces cry out for prompt design attention. For Roeshel Summerville of Butler, Pennsylvania, that space was the first-floor bath. Located between a home office and the family room, it's the most trafficked of the 1927 farmhouse's three baths and two powder rooms. But when Roeshel, her husband, and their two daughters moved in, it sported bare drywall and grungy carpeting.
Two years in, with a full redo out of the question, Roeshel decided to make the space "less embarrassing." Refinishing everything from the plywood subfloor to the original sink fixtures with paint, she updated the bath over four weekends with a gray-and-brown palette and low-cost touches, such as a three-light vanity fixture. "It was supposed to be a temporary fix, but I love it. And now we can focus our money on bigger projects," says Roeshel.
Shown:
The rug motif and wide wall stripes add classic charm to this now-inviting space.
Wall paint:
Benjamin Moore
's Light Pewter and Nimbus

Contribute to This Story Below