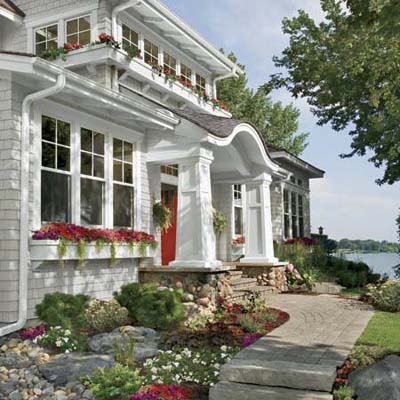 »
Secrets to Great Curb Appeal
What makes one house a head turner and another just okay takes a bit of study. Spend enough time looking, though, and you'll see that all the best examples have things in common, like a fine front door, a pleasing color scheme, and landscaping that softens the hard edges. Then there's the subtler stuff: the right roof, windows that work with the house's style, the way the walkway welcomes you. Together these features can make your home stand out on the street, giving you a sense of pride when you come home each day.
Budget-conscious enhancements have the added benefit of ratcheting up your property value. In fact, of the top 10 remodeling projects expected to recoup the most money at resale this year, eight are facade fix-ups costing less than $15,000, according to a report by the
National Association of Realtors
. Topping the list are improvements that reduce energy use or maintenance—an
Energy Star
picture window to replace a pair of drafty double-hungs, for instance, or a steel front door with a vibrant factory finish that will never need repainting. For help freshening up your home's exterior with an eye toward your personal enjoyment and your bottom line, check out the following six curbside style boosts, then see how they're put to work on six different houses.

Contribute to This Story Below