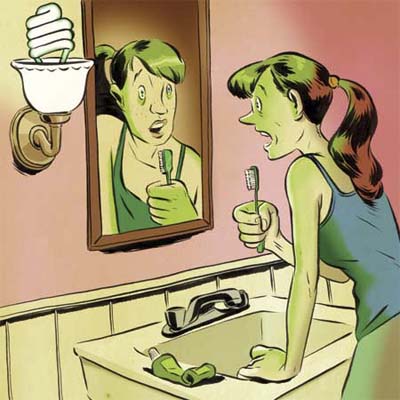 »
Overcoming the Dark Side of Compact Fluorescents
Of all the ways to cut your electric bills, twisting in a CFL might just be the easiest. You don't have to build a backyard wind farm or set the thermostat so low you've got to sleep in down pajamas. Just replace incandescent bulbs with CFLs, which sap 75 percent less energy, and you could slash hundreds off your annual electricity expenses. And over the long haul you'll save on bulbs, too, because they last up to 10 times longer than incandescents.
It's that simple. And yet many of you aren't using CFLs. We know this because you told us so in a recent poll on our
messageboards
. Among your gripes were slow start-up times, the greenish light CFLs cast, and their mercury content. But they don't deserve such a bad rap anymore, says sustainable lighting designer Mark Loeffler of New Haven, Connecticut. "The bulbs you buy today are far better than what was on the market just a few years ago," says Loeffler. No, they're still not ideal for every light fixture and application, but most of the big problems have been solved. Take, for example, the following concerns from your fellow readers.
Contribute to This Story Below