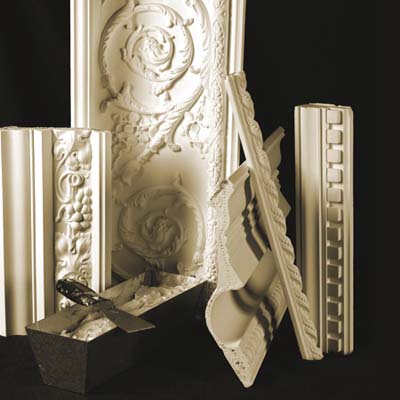 »
A Guide to Your Options
Installing crown molding is today's most-pursued architectural upgrade, meant to give plain walls depth and formality. But homeowners choosing their own crown are often stumped when faced with the variety of materials it comes in, from traditional plaster to high-tech flexible polymers. Here, we break down the choices and explain which type is right for your rooms.
PlasterBest for:
A grand interior, typically with plaster walls and a budget to match its high style.
Pros:
Cast into elaborate profiles—some of which can't be milled out of wood—this elegant material's deep reveals can create intricate shadows. Plus, it won't shrink or warp.
Cons:
There's no such thing as off-the-shelf here; all plaster crown is made to order and costly. It's also very heavy and easily cracked, and needs to be buttered on the back with fresh plaster for installation—not a DIY-friendly job.
From left:
Grapevines, about $19*; oversize spiral rose vines, about $21; simulated built-up, about $22; rope detailing, about $7; toothy dentil, about $9; all from
Hyde Park
* All prices per linear foot

Contribute to This Story Below
More in Molding & Carpentry