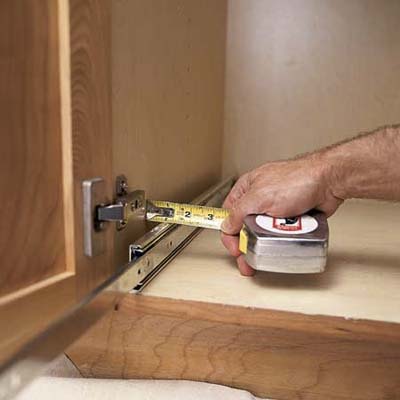 To ensure that the shelf can slide past the cabinet door and hinges, you will need to fur out the drawer slides with cleats.

To measure how thick to make the cleats, open the cabinet door and position the drawer slide, with the inner rail extended, as close to the door hinge as it can get without touching. Then measure the space between the cabinet side and the back of the drawer slide.

Rip the two 2-inch-high cleats from plywood or 1x3s; they should be the same length as the drawer slides. You may need to build up to the thickness you measured (above) with more than one piece of wood.

Set the two cleats against the opposite sides of the cabinet, measure between them, and then subtract 1 inch for the thickness of the drawer slides. The resulting dimension is the overall width of the shelf including the pine frame. Set the cleats aside.

The overall depth of the shelf (front to back) is the same as the length of the drawer slides.