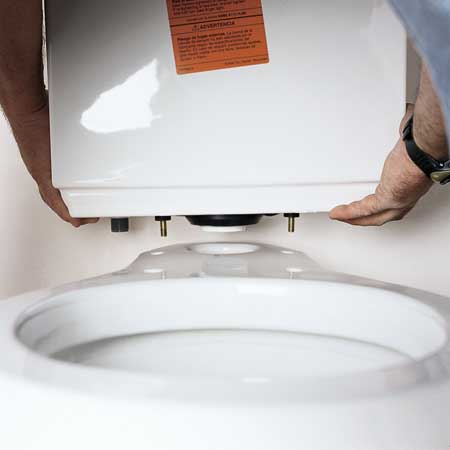 Make sure the large-diameter rubber tank-to-bowl (or spud) washer on the outside of the tank's bottom is firmly seated.

Fit the small-diameter rubber tank washers into the small tank holes from the inside of the tank, then insert the tank bolts.

Gently lower the tank onto the back of the bowl, guiding the ends of the tank bolts into the holes.

Slip a nylon washer onto each bolt, then hand-thread the nuts.

Holding each bolt head in place with a screwdriver, hand-tighten the nuts, alternating from nut to nut and checking repeatedly to make sure the tank is level. Overtightening will crack the porcelain.

Connect the tank's handle to the flapper chain.