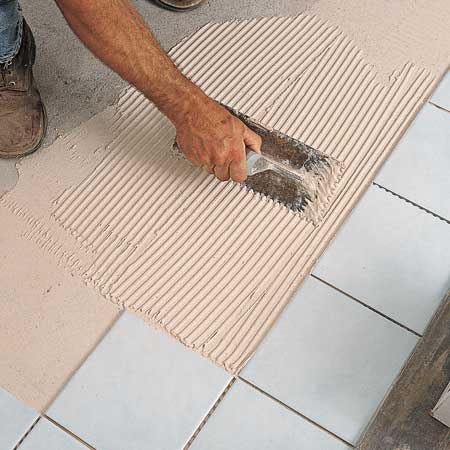 Chuck a mixer into a drill and blend the powdered thinset with latex additive—not water—until it's the consistency of mayonnaise. Let it slake (rest) for about 10 minutes. Mix only as much thinset as you can use in 2 hours.

With the flat edge of a trowel, spread a thin layer of thinset (scratch coat) over a 2-by-3-foot area next to the straightedge.

Before the scratch coat dries, apply more thinset using the notched edge of the trowel. Hold the trowel at a 45-degree angle to the floor and spread the thinset evenly in broad curved strokes, then finish with a straight pass, which ensures the best adhesion. Combing the thinset into furrows allows air to escape as the tile is set.

TIP: When spreading thinset, press down hard so that the trowel makes a scraping sound; the trowel's notch size should equal the tile thickness.