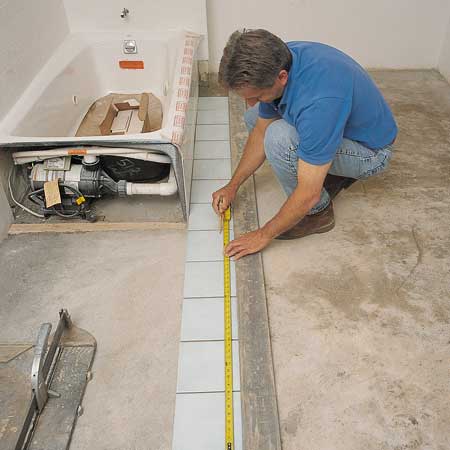 Find the midpoint of each wall and snap a chalk lines on the floor. The line crossing at the room's center are the starting point of the tile.

Lay a row of tiles along a straightedge more than halfway across the room. For consistent joints, use tile spacers. This row determines the size of cut tiles along the walls.

At the room's center, place a tile where the chalk lines cross with its edges touching the lines. Measure from one wall (call it A) to the nearest tile edge. Now, go to the tile row and, starting at a joint, measure along the row and mark the distance you just measured. The mark shows the width of the tile at the wall. If that measurement is less than 2 inches, go back to the center tile and move it away from wall A to create a wider cut tile.