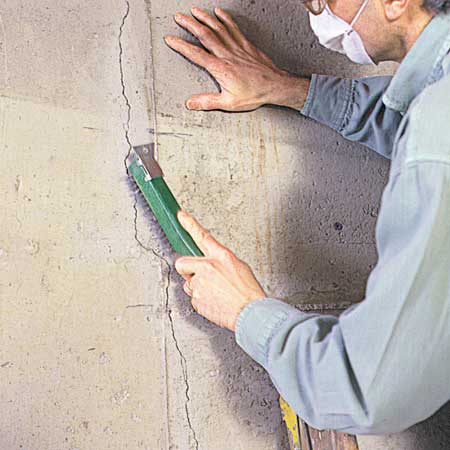 Several masonry patching products, such as hydraulic cement, do an adequate job of filling cracks in concrete walls. However, these products can fail after a few years if your foundation or retaining wall continues to move slightly, leaving you with little choice but to chip them out and start all over again.
We repaired a foundation wall, which had an 8-ft.-long crack that leaked water into the basement during periods of heavy rainfall. To permanently patch the crack we used an epoxy-injection system from Polygem, called the
Liquid Concrete Repair Kit
(about $60). Each kit contains a two-part epoxy crack sealer, two 10-oz. tubes of Liquid Concrete Repair (LCR), a viscous epoxy that comes in a caulk-type cartridge, and seven plastic injection ports that deliver the LCR deep into the crack. There's enough material in each kit to repair a 1/16-in.-wide x 8-in.-deep x 8-ft.-long crack.
Before you start, check to make sure the crack is dry. If the crack is slightly damp, dry it with a blow-dryer, then wait 15 minutes. If it remains dry, proceed with the repair. However, if the dampness returns, water is still seeping into the crack and you'll have to wait for it to dry out on its own.
First, scrub the crack clean of any loose concrete, paint or old filler using a wire brush. Remove all dust and debris with a shop vacuum.