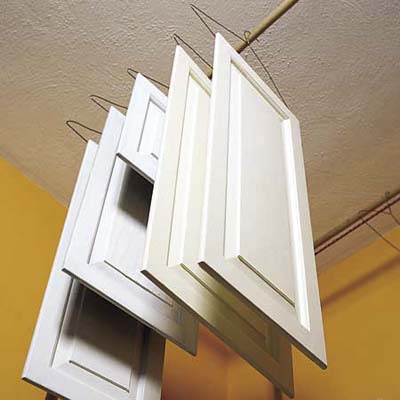 Painting cabinet doors is a trade-off between perfection and speed. John Dee, a perfectionist, prefers to do one side at a time, keeping the faces flat so they don't get runs. But that's 48 hours of drying time per door—one day per side. Here's his method for painting both sides in a day.

Twist two screw hooks into holes drilled in an inconspicuous door edge (the lower edge for bottom cabinets, the upper edge for top cabinets). Paint the door's outside face as above. Let it dry for an hour while resting flat, then tilt the door up onto its hooks and put a drywall screw into an existing hardware hole. Hold the tilted door up by the screw and paint the door's back side.

When you're done painting, pick up the door by the screw and one hook and hang both hooks on a sturdy wire clothes hanger. Suspend from a shower curtain rod or clothes rod until the door is dry.