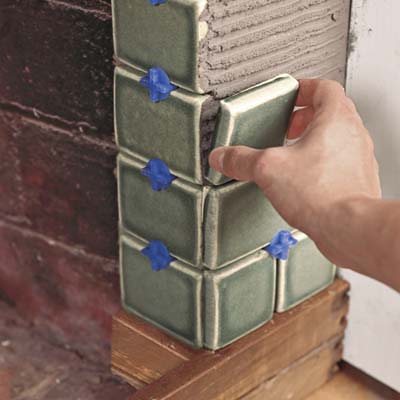 Remove the support ledge. Taking into account the height of each tile plus a grout line, estimate the size of the final cut tile that will sit at the bottom of each leg. Using a circular saw, rip a 1x3—long enough to fit across the surround—to that height. Position it across the bottom of both legs and check it for level. Screw the strip in place. If you plan to tile the inner edges of the firebox, rip two more 1x3 support pieces to fit those spaces and screw them in place.

Starting on one leg, apply thinset above the 1x3 and notch it with the trowel. Set the field tiles along the leg, working from the bottom up and staggering the joints, as you did with the upper field. Tile the other leg in the same manner.

Wait a few hours until all the tiles are firmly set.

TOH Tip: As you work, periodically clean the tiles and joints with a damp cloth to remove excess thinset before it hardens.