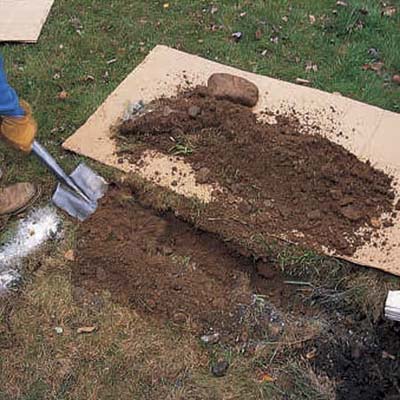 Begin digging the trench and dumping the dirt onto the cardboard. This is a trick that can make backfilling go much more smoothly later on.

The trench should be at least 6-inches-wide and slope down slightly (1 to 2 inches per length of pipe) so water drains away from the downspouts. Continue until you have completed the trench.

Depending on the trench length and, more important, the type of soil, digging the trench with a shovel can range from relatively easy to downright impossible. For our installation, we dug a 70-foot-long trench by hand through rocky soil, a job that took three weekends.

A quicker, easier alternative to hand digging is to rent a trenching machine or hire a backhoe operator. The average job can usually be done in under two hours. To minimize damage to the landscape, have the operator use a 12-inch trenching bucket.

The trench must be at least 10-inches-deep, but be aware that in cold-weather regions the pipe occasionally will clog with ice during periods of heavy precipitation. This condition most often occurs when the air temperature is mild during the day but drops below freezing at night.

TOH Tip:
The only guaranteed way to keep the pipe from freezing is to bury it below the frost line, which ranges between 32 and 48 inches in most areas of the snow belt. Digging a trench that deep is only practical when the end of the pipe drains into a dry well or is connected to an existing drain line.