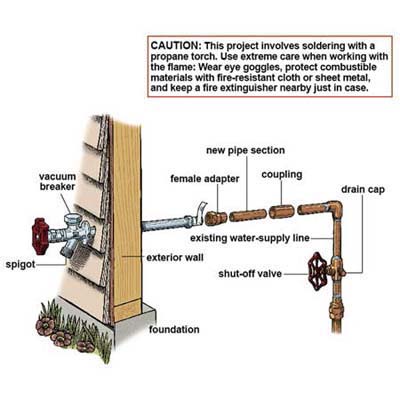 A burst water pipe is a home-repair nightmare: When the temperature drops below freezing and the water in an exposed pipe freezes, it expands, rupturing the pipe. While most plumbing is protected by insulation or heating, an outdoor faucet is vulnerable to the elements.

Fortunately, this fixture is easy to protect with a freezeproof faucet (aka a freezeless or frostproof hose bib, sill cock, or faucet). A standard hose faucet freezes because the supply pipe connect to the faucet outside the heated house. This exposes the water to freezing temperatures. A freezeproof faucet, ranging from 4 to 24 inches in length, extends back into the house, and its valve seat—where the water stops when the faucet is off—is all the way inside. So once the handle is turned off outside, the water never makes it farther than the warm side of the wall; any water trapped in between just drains out the faucet.

Note that this installation presumes your house is plumbed with copper pipe. You'll generally be able to follow these directions for other materials, although cutting and joining will be different. If you have galvanized steel pipes, don't forget to use a dielectric union if you introduce copper pipe into the system.

CAUTION: This project involves soldering with a propane torch. Use extreme care when working with the flame: Wear eye goggles, protect combustible materials with fire-resistant cloth or sheet metal, and keep a fire extinguisher nearby just in case.