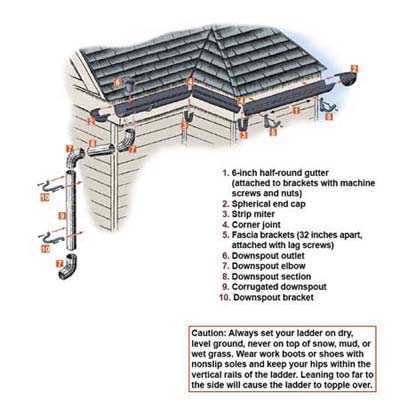 Many homeowners nurse their battered, leaky gutters along because they just don't see the reward of new gutters outweighing the effort required to replace them. That's why we enlisted Agustin Crookston, owner of Classic Gutter Systems in Kalamazoo, Michigan, to show how attractive gutters can be—and how easy to install. His company makes distinctive, half-round reproduction gutters, which have been featured on several This Old House TV projects. The dark-green aluminum gutters used here ($2.75 per linear foot, materials only) were attached to the fascia with cast-aluminum, closed-curl brackets ($8 each), which the homeowners spray-painted antique gold. At the ends of the gutters are 4-inch-diameter corrugated aluminum downspouts ($1.75 per linear foot), which were ordered in white to match the house trim.
To ensure that gutters drain properly, make certain they slope (
½
inch for every 10 feet) toward a downspout. For gutter runs longer than 40 feet, it's best to pitch the gutter down from the middle to a downspout at each end. Or you can slope the gutters down from each end toward a single downspout placed in the middle of the run. Determine what works best for your house before ordering gutters and attachments.