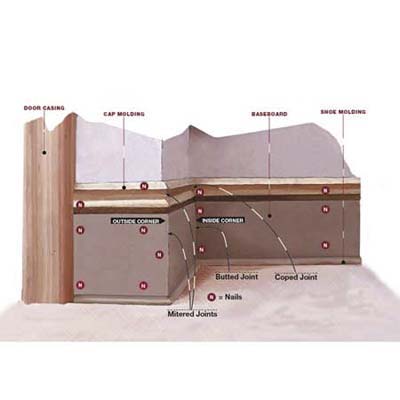 When starting from scratch, Tom Silva prefers the look of a base that's at least 6 inches high and
½
to
¾
inches thick, topped with a separate, deeply profiled cap molding. But if he's remodeling a house graced with good-looking baseboards, he tries his best to match the new trim to what's already there.
Making a new baseboard the same height as the original isn't difficult; finding a cap molding with the same profile can be, especially on an old house. Sometimes he'll get lucky and locate the profile he needs from the 100 or so that good millwork shops keep in stock. Sometimes he'll combine two or more of those moldings to create a shape that is close. But when an exact replica is needed, he'll have custom molding milled up.
PLANNING AHEAD
To determine the amount of baseboard material you need, measure each straight section of the wall and round up to the nearest whole-foot dimension divisible by two. A week before installation, bring the wood inside to acclimate. Start running baseboard against inside corners and work toward outside corners.