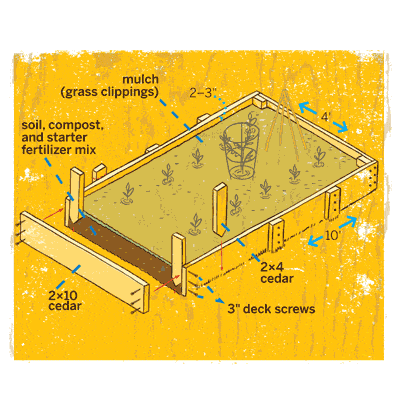 Roger and the kids made this bed with rot-resistant cedar, a material that's safe around the edible plants it will contain. Cedar will also turn a nice silvery gray as it weathers.
The bed here is 10 feet long, but you can make yours as long as the lumber allows. However, it should be no more than 4 feet wide so that little arms can reach the plants in the middle. Roger cut stakes from 2x4s and angled one end to a point to hold the frame in place and keep the sides from bowing once it's filled with heavy soil.
Vegetable gardens need a lot of light, so Roger and his helpers placed the bed in an area that gets sun for most of the day. To improve drainage and prevent weeds from growing up into the garden, he removed the grass beneath the bed and tilled the earth before adding soil.