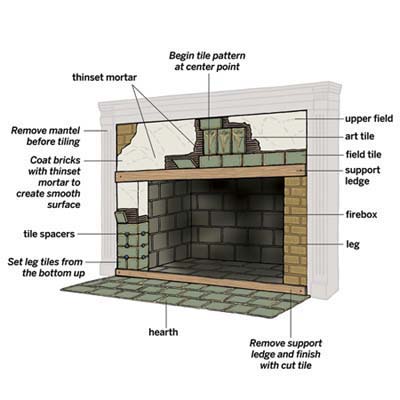 A flawless fireplace surround starts with a well-thought-out design and ends with an eye for even spacing. Depending on the tile you use, the design may be as simple as centering the starting position, as with subway tile, or as complicated as spacing decorative tile in the middle of a field, as with accent art tile.

Many art-tile manufacturers will custom-make their tile to match your surround. But regardless of which tile you use, you'll save a lot of time by making a cardboard template of your surround so that you can lay out a pattern on the floor, space the tiles appropriately, and choose a starting position before committing everything to the fireplace itself.

Start by laying a row of tiles on the template where the top of the firebox would be, beginning with the center tile and working outward from there. Then you can see if you need to adjust the tiles to avoid cutting any slivers at the ends. On the legs of your surround, plan to use full tiles in the field and leave any cuts at the bottom.

Whenever you tile a vertical surface, you have to start from the bottom row and work your way up. For the field above the firebox opening, you'll need to screw a piece of wood to the bricks to provide support for the heavy tiles while they set. At the bottom of the legs, you'll have to estimate the size of the last cut tile and rip a piece of wood for a level starting point that keeps the joints lined up from leg to leg.

Keep in mind that tiling requires you to work quickly, and while tile spacers are helpful, it may be necessary to go back before the thinset grabs and slightly cheat the tiles one way or another to make them fit perfectly with their neighbors. As long as your joints look even, it's more important that you avoid a large grout line at the last tile than worry about sticking to the exact measurement of the spacer.