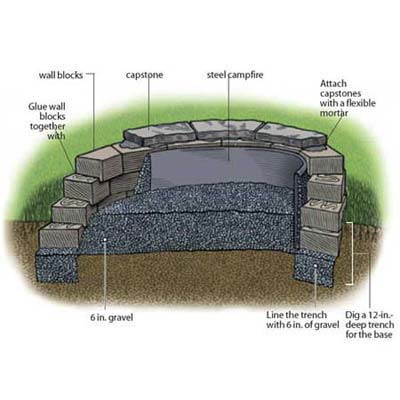 A built-in fire pit is a glorified campfire, with sturdy walls of stone that help contain the flames and heat. That's especially important in the parts of the country where there's a risk of brush fires. So the first task in building any fire pit is checking local codes on open flames. The pit must be located far from overhanging trees, the house, and any other flammable structure.

To make building stone walls easier, you can use blocks made from cast concrete and molded to look like real stone (available at any home center). They're flat on the top and bottom so they stack neatly, and some interlock for added strength. Glue them together with masonry adhesive. Choose a block with angled sides, meant to form curves when butted against each other. The optimal size for a fire pit is between 36 and 44 inches inside diameter. That will create enough room for a healthy fire but still keep gatherers close enough to chat.

As an added precaution, the fire pit should be lined with a thick steel ring like the ones used for park campfires. These protect the concrete in the blocks from the heat, which can cause them to dry out and break down prematurely.

A fire pit should sit low to the ground, with walls rising no more than a foot off the ground. But for stability, the base of the wall must be buried below ground in a hole lined with gravel, providing drainage and protecting against frost heaves in winter. the gravel also creates a level base for the stones to rest on. Most concrete blocks are about 4 inches high, so if the first course and a half sit underground, and there are two and a half courses above ground with a cap on top, you'll end up with a foot-high wall—just right for resting your feet on while sitting in an outdoor chair.

Contribute to This Story Below
Brick hammer

Cold chisel

Spade

Hoe

Steel rake

Tamper

2-foot level

4-foot level

Mallet

Caulk gun

Trowel

Grinder
1. CAST-CONCRETE WALL STONES
2. CAPSTONES3. STEEL CAMPFIRE RING
The one we used here is from
MARKSTAAR
4. 3/4-INCH DRAINAGE GRAVEL5. PATIO BASE
(stone dust)
6. MASONRY ADHESIVE7. READY-MIX MORTAR
(if needed) to cement a natural-stone cap onto the wall. A 40-pound bag is enough.
8. CONCRETE BONDING ADDITIVE
(aka "milk") to make the mortar more flexible.