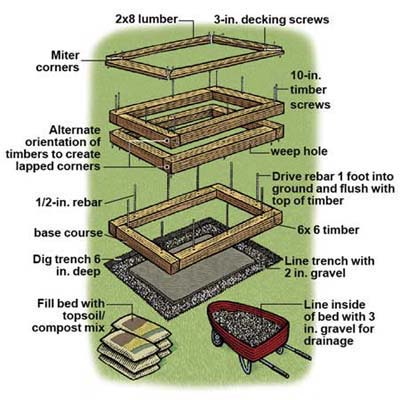 A raised bed is nothing more than a giant planter, a box of topsoil with timbers for sides. You can build it in any sunny, level spot, or you can excavate a slightly sloping location to create a level surface (though this adds to the digging). The box itself can be made from any size lumber—the larger the pieces, the fewer you'll need. Cedar or redwood timbers look nice and are naturally weather-resistant. Pressure-treated wood is a less expensive, albeit less polished, alternative, and preliminary EPA tests have shown today's treated lumber to be a safe material for use in vegetable and herb beds.

Before you build your bed, you'll need to figure out how big you want it to be. "The beauty of a raised bed is its accessibility," says This Old House landscape contractor Roger Cook. "It should rise at least a foot off the ground—this gives the plant roots room to grow and gives the gardener's back a break." Stick with 4 feet or less for the width, says Roger, so you can reach the middle of the plantings from either side; when it comes to length, the limit depends on the size of your lumber. If you use the same beefy 6x6 timbers shown here, you shouldn't go beyond 10 feet because the timbers will get too heavy. To cover a larger area, build side-by-side beds with room to walk between them. Because the bed's first timbers are partially buried, you'll need to guard against rot by laying 2 inches of gravel beneath them. This promotes drainage and also provides a solid footing. For the bed itself, line the bottom with more gravel and drill weep holes through the timbers' sides.

Most of the precision and muscle work in building the bed comes in digging the trenches and leveling and squaring up the first course of timbers. Once the first course is laid properly and spiked to the earth with rebar, assembling the rest of the bed is a matter of piecing the sides together like building blocks. The whole thing fastens together with timber screws. Then you simply add a railing, shovel in the topsoil, and plant your new garden.