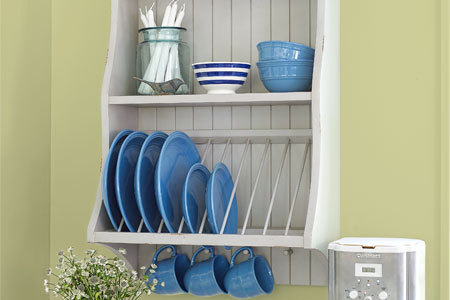 If you're looking for a way to dramatically boost the charm and functionality of your kitchen, consider adding an open plate rack. It mounts to the wall, leaving counters uncluttered, and gets your dishes out in the open—easy to grab and hard not to admire.
The fine example at right features shapely sides and Shaker pegs to hang cups or towels. To build it, you'll need a few pieces of poplar or equally solid lumber for the sides and shelves, a piece of beadboard for the back, and hardwood dowels. It mounts with a French cleat, which you can make from wood or purchase in metal.
Alternatively, if detail work with dowels doesn't sound like your cup of tea, there are any number of options you can buy instead, ranging from mass-produced models to handcrafted marvels. No matter what, you'll feel good giving your dishes a proper place to shine.
Download and print a
cut list for building a plate rack
.

Contribute to This Story Below
Tape measure

Circular saw

Thin, flexible batten to draw curves

Jigsaw

Drill/driver

5/16-inch drill bit

Shims

Paintbrush
1x12 poplar board. Get one 8-footer for the sides and shelves, which will need to be ripped to width.5/4-by-4-inch poplar board. Get one 4-footer to rip for the dowel rails.
½

-inch beadboard panel for the back. Get one 4-by-8-foot sheet.5/16-inch maple dowels. Get four 4-foot pieces.Four Shaker pegsFrench cleat. Get one 18-inch metal cleat like this one.1-

¼

-inch wood screwsBrad nailsWood gluePaint