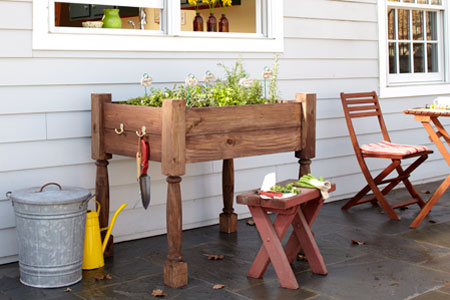 Growing fresh herbs indoors can be a tricky task, but an outdoor garden bed requires yard space that not all of us have. So what's an herb lover to do? If you've got a free afternoon and basic carpentry skills,
This Old House
general contractor Tom Silva has the perfect solution: Build an all-weather raised planter that can live on your porch or patio. This compact piece takes up less than 6 square feet and has a few handy hooks to hold your gardening tools. Best of all, it will let you enjoy fresh herbs all season long without back-breaking labor.
Shown:
Colonial pressure-treated-pine deck post; available at home centers.
Stain:
Cabot's
Semi-Transparent Deck & Siding Stain in Cordovan Brown
Download and print the planter cut list