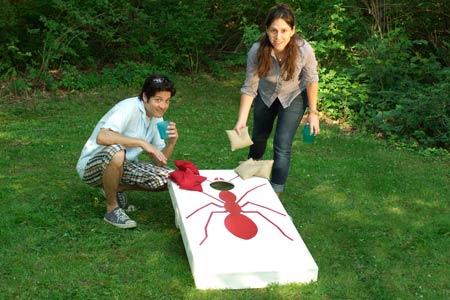 Cornhole is everywhere! The backyard beanbag-toss game that caught fire in the Midwest now boasts its own association, Wikipedia entry, and myriad online purveyors. It's easy to see why it's become such a barbeque favorite: You can hold a beverage in one hand and loft your beanbag with the other. But why pay hundreds of dollars for game boards adorned with your feeble alma mater when you can make ones to be proud of with plywood and 2x4s?
This Old House
's experts, aka Team Saturday, will walk you through the steps in a
video tutorial
. As for your poor aim? Nothing a few well-chosen teammates can't overcome.
Cut List
•
½
-inch birch-veneer plywood: two at 24 by 48 inches • 2x4 sides: four at 48 inches
• 2x4 ends: four at 21 inches
• 2x4 legs: four at 12 inches
Download rules and a scorecard for the game of cornhole.