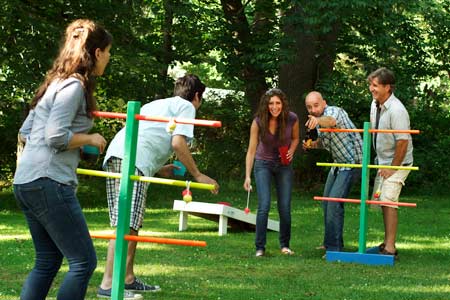 Ever had your shoes tied together and tossed over a power line? Ladder Golf is your shot at sweet revenge. Wrap one of your bolas—a pair of golf balls connected by a length of nylon cord—over a rung, and you score. If it stays put, that is. All you need to build a rack for each side is a few dowels and 2x4s; the bolas require golf balls and cord.
This Old House
's game experts, aka Team Saturday, walk you through the steps in a
video tutorial
. As for how to lure your grade-school bully onto your turf for a little payback, you're on your own.

Contribute to This Story Below
Miter saw

Drill driver fitted with 1-inch paddle bit and

¼

-inch drill bit

Paintbrushes

Flat-head screwdriver

Utility scissors

Pull saw
1-inch dowels
Get six at 36-inch lengths
2x4s
Get two 8-foot boards
Golf balls
Get at least 12
3/16-inch twisted nylon rope
Get a 10-foot rope
Stain-blocking white primer
Get 1 quart
Spray paint
in at least four colors
Two

¼

-by-4-inch carriage boltsTwo

¼

-inch washersTwo

¼

-inch wing nuts3-inch deck screws