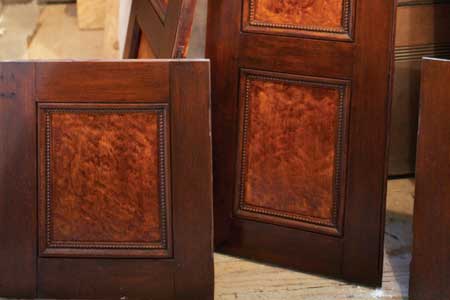 If you have an old house blessed with artful millwork, you can always breathe new life into it with proper cleaning or refinishing methods. Wood finisher John Thomas is doing just that at the 1904 brownstone in Brooklyn, New York, owned by Karen Shen and Kevin Costello. The couple's home, a
TOH
TV project, has some glorious but long-neglected woodwork.
Karen and Kevin's place is filled with fine woods—solid bird's-eye maple, quartersawn oak, and cherry—that today are considered quite valuable. But in the late Victorian era, when this house was built, says Thomas, "The middle class who bought these places wanted their rooms to look like they'd been paneled in mahogany, a wood within the means of only the very wealthy." As a result, most woodwork was given a dark finish that obscured its natural grain and color.
These finishes also helped to hide lesser-quality or poorly matched woods. In such cases, if the finish is intact, the best way to revive it is with a
simple cleaning
. But at this house, an earlier refinishing left the door panels blotched and uneven, so Thomas's only recourse is to remove the existing coatings and get back to the original material. Here's a look at how he strips, seals, colors, and varnishes to give vintage woodwork a fresh face.
Contribute to This Story Below
Natural-bristle chip brush (for stripper)

Putty knife

Pull scraper

Dental tools

Toothbrush

Vacuum

Natural-bristle stain and varnish brush
1. Denatured alcohol

2. Paint stripper

3. Fine steel wool

4. De-waxed shellac (Seal Cote)

5. Cotton rag

6. Cheesecloth

7. Water-based glaze

8. Wood dye

9. Gloss spar varnish

10. Mineral spirits (paint thinner)

11. Satin spar varnish