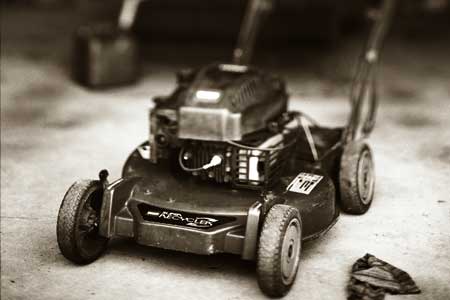 Gas-powered lawn mowers and trimmers take their share of abuse during the warm months, so some care at the end of the season—or at the start of spring—is vital to keeping their parts in good working condition. Replacing the oil, spark plugs, and air filters on mowers and applying a bit of elbow grease to grimy recesses, preferably before storing them for the winter, will ensure that they rev up with a pull of the cord next year.
Here, Audrey Meinking, owner of
Mineola Bicycle, Fitness, and Mower
in Mineola, New York, demonstrates the proper servicing on a push mower; the same process also works for other small gas-powered machines such as trimmers and snowblowers. "If you don't take an hour or two for maintenance or bring your machines to a pro for servicing," she says, "there's a big chance you'll be stuck watching the grass grow come spring."

Contribute to This Story Below
Gloves

Socket wrench

Putty knife

Wire brush

Nut screwdriver
1. Fuel stabilizer

2. SAE-30 oil

3. Pan
for emptying old fluids

4. Tarp
to ensure quick clean-up after emptying old fluids

5. Filter
new paper or sponge filter to replace the old one

6. Spark plug
to replace old one, and guarantee a smooth start come next spring