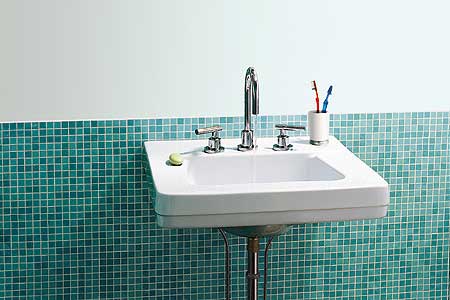 The leaking faucet handle in the master bathroom once read "cold" but now just cries "old." This vestige of the 1980s, in all its cut-plastic glory, is not quite the period detail you had in mind when you bought the place. What you need is a serious faucet, made of brass and steel and finished in gleaming chrome, elegant nickel, or strapping dark iron. Turn its weighty handles and the tap shuts with such finality you feel like you're sealing off the hatch of a ship.

The good news is that you're only a few wrench cranks away from the spigot of your dreams. Most new faucets come as an ensemble with all the components you need, including matching spout, handles, drain collar, and sink stopper. So, as This Old House technical editor Mark Powers demonstrates here, your faucet-assembly time will be held to a couple of hours. Then all you'll be able to think when you look at your upgraded sink will be: "Wow, that's hot!"

Contribute to This Story Below
Adjustable wrench

Basin wrench,
to reach parts under the sink

Allen wrenches,
tp tighten set screws

Tube bender,
for putting curves in rigid supply lines

Pipe cutter

Tongue-and-groove pliers,
to turn large nuts and to hold parts steady when tightening fittings
1. FAUCET
Most come with spout, valves, braided line to connect the valves, handles, drain collar, and pop-up waste assembly, though some valves and handles are sold separately. Look for parts made from solid brass (under the finish) or stainless steel for the best quality.
2. 3/8-inch supply lines
to connect the sink's valves to the water supply, either rigid or braided. Rigid supply lines (aka risers) should be used in an exposed installation, but they might need to be bent to fit, which takes some finesse. Buy three (just in case) in a chrome finish for the best appearance and in lengths longer than you need. Make sure you get the ones with an "acorn head" which becomes part of the connection to the faucet valves. You will also need to buy compression fittings. [BR] Braided-steel lines are flexible and therefor easy to install but aren't as pretty. They come in various lengths, with fittings on the ends. Make sure to buy them only slightly longer than you need, with a 3/8-inch compression fitting on one end and a 1/2-inch fitting on the other.
3. 3/8x1/2-inch compression unions
(if needed) to connect rigid supply lines.Get two; each should include two complete compression fittings, one 3/8-inch and one 1/2-inch, which you can cannibalize for your connections. Otherwise, get two 3/8-inch fittings and two 1/2-inch fittings separately.
4. Clear silicone sealant
Instead of plumber's putty, to seal gaps around the valves, spout, and drain collar. Some manufacturers warn that using plumber's putty will void their finish warranties because the oil-based product can cause damage.
5. Teflon tape6. Rubbing alcohol