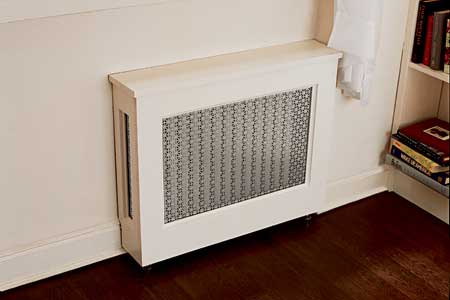 Fresh off the factory floor, with ornate cast-iron fins ready to take their first hit of steam, the radiator was the darling of American plumbing. But that was a long time ago, and 90 winters and 10 paint coats haven't treated the old girl well. Even if you could clean up the cobwebs and grind off the flaky lead-based layers, a cast-iron hunk crouching over a warped floor still doesn't look pretty.

Better just cut your losses and cover it up. As This Old House technical editor Mark Powers demonstrates on the following pages, with a little weekend carpentry and about thirty bucks' worth of MDF and molding, you could customize a cabinet to hide the radiator and reclaim some wasted space. Add a fresh coat of paint and a gleaming metal screen, and the venerable radiator, a living legend, will once again look as hot as it feels.
Contribute to This Story Below
More in Plumbing, HVAC & Electrical
Drill/driver,
with ½-inch spade bit and countersink bit

Circular saw

Clamps

Jigsaw

Miter box and handsaw

Tin snips

Staple gun

Scribe,
to contour box around baseboards
1. 3/4-INCH MDF
Measure the front, sides and top of your radiator to determine how much you need.
2. SCREEN
Comes in 3-by-3 foot sheets. Get enough to cover the front opening and two side openings.
3. SHEET METAL
Slides behind the radiator to reflect heat outward.
4. 3/4-INCH MOLDING
to give a finished appearance to the screen openings.
5. 1 5/8-INCH COARSE DRYWALL SCREWS
to fasten the cover's sides and front.
6. 1/2-INCH STAPLES
to attach the screen to the cover.
7. WOOD GLUE
to attach molding.
8. 4d FINISH NAILS
for fastening the molding.
9. 1x SCRAP
to make cleats that hold the cover's top in place.
10. FEET
Check woodworking catalogs for furniture feet in metal or wood. You may need longer screws than the ones provided with the feet in order to fasten them through the thick MDF.