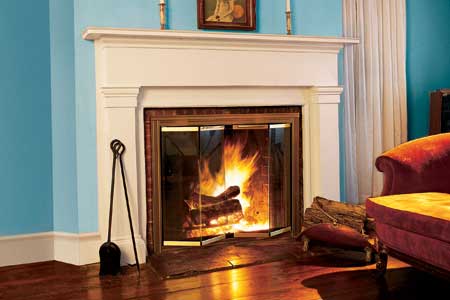 A cozy fire on a cold night is a delight. But it loses its charm when you must wait for it to burn out before heading to bed. A wood fire left untended isn't safe. Unlike a gas fireplace, which can be switched off, the only way to leave a wood fire is to close it off with glass doors.

Most new fireplaces come with glass doors. But if you want to add this safety feature to an existing fireplace, retrofitting them isn't difficult. The doors come in standard sizes that fit in any flat firebox opening.

We asked Justin Calemmo, of Five Sons Chimney Service in Brookfield, Connecticut, to show how to retrofit new doors on an old fireplace. Our 1848 fireplace has a surround that's undersized, so the glass doors make it safer by blocking the fire from the too close wood floor and mantel.

Contribute to This Story Below
Droplight

Phillip's head driver

Drill/driver

Hammer

Gloves

Socket wrench

Pliers
GLASS DOOR KIT
Comes with everything you will need for the installation, including all brackets, screws, anchors, and insulation. [BR] Many doors come in standard sizes, and larger distributors keep popular sizes in stock. Otherwise, you will need to order the door, which can take up to eight weeks. [BR]Measure the size of your firebox opening, both horizontally and vertically. Make sure to measure in a couple of places and note the smallest measurement for each so the door will slide into the space. Also measure the width and height of your surround between any protruding parts of the mantel. A narrow surround may require a smaller door to accommodate the overlap at the firebox edge.