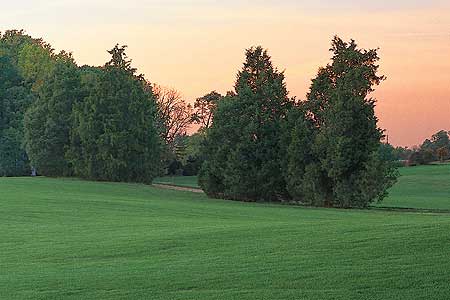 If you've spent the summer lamenting your tattered yard or wishing that your patch of dirt were a blanket of soft blades, you can stop. It won't get any better, at least not this year. But next spring could be a whole other story if you seed this fall - the perfect time to start a new lawn. In cold-weather climates, fall's cooler temperatures prevent the seeds from drying out, but there's still enough sun and rain to help them germinate before going into hibernation for the winter, without the competition of crabgrass and other weeds that die off this time of year. And the best part is that the whole process is a cinch. "Seeding is the easiest thing for a homeowner to do," says This Old House landscape contractor Roger Cook. "It just takes a little soil preparation, the right mix of seed, and lots of watering."
Contribute to This Story Below
Pointed shovel,
to remove rocks and to disperse sand and compost

Rotary tiller,
rents for $50 to $75 per day

Wheelbarrow

Walk-behind broadcast spreader,
for applying lime and fertilizer; rents for $10 to $20 a day

Metal garden rake

Handheld seeder/spreader,
for dispersing grass seed

Plastic leaf rake,
for working grass seed into the soil

Oscillating sprinkler
1. SOIL TEST KIT
to test the pH level of the soil. Do-it-yourself soil kits are sold at garden shops and hardware stores for less than $15, or for about $10 more you can contact your local extension service for a mail-in kit that takes about two weeks for results.
2. SAND
to mix with existing soil; about 3 cubic yards covers 1,000 square feet
3. COMPOST
to condition soil before seeding; you'll need 3 cubic yards per 1,000 square feet
4. PULVERIZED LIME, peat moss, or sulfur
to correct the pH of soil; you'll need lime if your soil is acidic, peat moss if it's slightly alkaline, and sulfur if it's very alkaline.
5. STARTER FERTILIZER
use a 12-25-12 mix; the numbers refer to the ratio of nitrogen to phosphorus to potassium. You'll need about 5 pounds per 1,000 square feet.
6. GRASS SEED
about 4 pounds of seed per 1,000 square feet