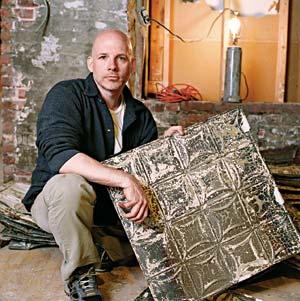 Scott Omelianuk, Editor
Scott Omelianuk, Editor of This Old House magazine, began his long relationship with home improvement at age 15, when he started working after school as a carpenter's gopher. After years of jobsite toil and practical jokes—including being sent to the supply house for toe nails—he graduated to the rank of trim carpenter and, eventually, from college, to pursue the somewhat less honorable profession of a journalist. After 15 years variously working in television, book and web publishing, and magazines, Scott joined This Old House in September of 2004. Under his direction the magazine has garnered numerous awards including a silver Folio Award for Best Redesign and a Henry R. Luce Award citation for Special Interest Story. Most recently the Chicago Tribune named This Old House to its 2007 Best Magazines list.

Scott, who spends each weekend in his workshop thinking he's an amateur furniture builder, was previously a partner at Kaufman Films, where he co-produced several successful specials. His television career began in 2002 when he wrote and hosted The Men's Department on Cablevision's Metro Channel. He's also written and edited for magazines and newspapers such as The New York Times, the Wall Street Journal, GQ, More, Details, and Men's Health.

In 2001, Scott left Esquire, where as Executive Editor he created many of the magazine's franchises, such as the "What I've Learned" feature and "Things A Man Should Know," which became a series of highly regarded books and led to the Newark Star Ledger dubbing him "the man who knows the things a man should know," though his wife, Cara, would largely disagree with that.

The couple are currently in the midst of the over-budget, behind-schedule, high-stress renovation of their 1885 brick-and-brownstone rowhouse in Hoboken, NJ. If it's ever finished—odds, maybe, 50-50—he'll be very happy. Until then he takes heart, knowing the experience provides excellent perspective for editing This Old House.