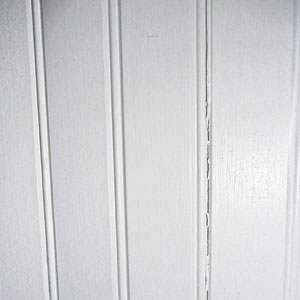 Q: Sometime after our contractor installed and painted the new beadboard paneling in our bathroom, the individual boards separated from one another. He then caulked the gaps, which looked okay until last winter, when the boards separated again. Now the caulk has cracked along the joints. What should we do?

—Nancy Oakes, Keene, N.H.

A: Tom Silva replies: This is a common problem with solid-wood beadboard, particularly where there are big swings in ­humidity from season to season (or shower to shower). Caulk can't keep up with all that swelling and shrinking, and eventually fails. Priming the back and ends of each board before it's installed minimizes wood movement, but at this point, it's a little late for that.

Try this: Wait for the seams to open again in the winter, then scrape out all the old caulking and paint any exposed wood. Paint only one edge at a time; any paint film that bridges a gap will crack, too. The gaps will be less noticeable the next time the wood shrinks. Painting beadboard a ­darker color also helps hide the gaps because they blend in with the shadows.