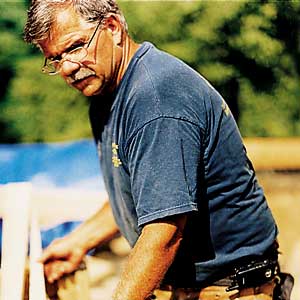 Q:
I have an old house with window wells in front of basement windows that are below grade. When it rains, I sometimes get a lot of water in the basement. I've tried window-well covers, but they keep blowing away in the wind or getting damaged by lawn mowers. Do you know of any solutions to these problems?
—Betty Nissley, Indianapolis, IN
A:
Tom Silva replies:
The first thing to do is make sure your gutters and downspouts aren't part of the problem. Overflowing gutters can fill up a window well so water pours into the basement through the window.
Once the gutters are taken care of, you have a couple of choices.
If you want to eliminate the covers entirely, dig out the existing soil in the well down to about 2 feet below the level of the window, and fill it with
½
-inch crushed stone. The stone should come no higher than about 3 inches from the windowsill. That will encourage ­water to drain quickly so it won't come in the ­win­dow. Keep leaves and other debris from accu­mulating in the wells, and you should be fine.
Another, somewhat more expensive approach is to fit your window wells with a better cover. Dyne, for example, makes flat, translucent covers out of high-strength ­Lexan, a shatterproof plastic. The covers, available at many home centers, are secured to the top of the well by metal brackets and removable pins. But before you purchase such a unit, be sure to check with your local building-code official. A ­window well ­cover may not be allowed if it prevents someone from using the window to get out of the ­basement in an emergency.