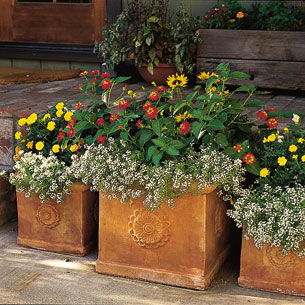 Whether you have acres of space or a tiny courtyard, container arrangements add color and character to your garden. So, here are 10 garden plans, all designed by Violet Johnson, owner of Coyote Garden Center in Morgan Hill, California. Each selection, which is designed for a 12-gallon container, uses readily available varieties that will flourish in most parts of the country as annuals. The right column indicates the coldest zone for these choices as perennials. Our first combination is great for busy gardeners who need hardy plants that can withstand a little benign neglect.
Low-Maintenance Favorite
Put this combination in a well-drained, sandy soil mix and a sunny location, and it will thrive even with very little watering.
What Plants?
How Many?
Hardy to Zone:
Oleander
Nerium 'Petite Pink'

1

8

Catmint
Nepeta x faassenii

2

4

Osteospermum
Osteospermum 'Whirligig'

1

8

Ivy Geranium
Pelargonium peltatum 'Red Cascade'

3

9
For additional information on zones, go to
www.usda.gov
or
www.arborday.org
. For more information on the Coyote Garden Center, visit
www.coyotegardens.com
or contact Violet Johnson at 408-463-0439.