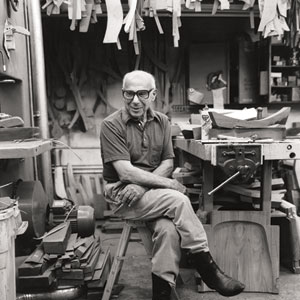 The September 2003 issue of This Old House magazine includes a column about rocking chairs and their creators, one of whom we'd had the pleasure of profiling several years ago. We thought our readers would enjoy this visit with the great Sam Maloof, so we're reproducing it here in its entirety. This profile, which appeared in the March/April 1998 issue, was published before Freda Maloof's death. Sam Maloof made a world. In a citrus grove now surrounded by malls and houses, in a wood shop where he hand-built furniture that is now revered as art, in the home he crafted one room at a time as he could afford the lumber and where he has lived the last half century, almost every minute of every day, with the wonder of his life — his wife, Alfreda — Sam Maloof made a world. He nurtured his lemons and oranges and figs, planted walnut and sycamore trees that started as cuttings the size of his thumb and eventually grew to engulf the grounds. He tore down a chicken coop and built a shop that always smells of sweet, fresh wood. He tore down a shack and built a house that, like a piece of modern sculpture, has no front or back. In the kitchen, he laid bricks without mortar so that each step makes the music of wind chimes. Then he moved on to the living room, Freda's study, the skylit tower, the guest room with a loft, the balcony overlooking the grove. The house ultimately came to 7,000 square feet — 26 rooms that unfold like a pyramid's secret chambers adorned with handmade redwood doors, windows and jalousies, two dozen wooden door latches that resemble flying fish or bones or tusks, jagged-edged walnut dogboards nailed to the wall like abstract art, Douglas fir rafters with mortise-and-tenon joints at their peaks, window frames joined with dovetails, even toilet seats handmade from English oak and black walnut. Outside the grove, cars and trucks groan and spew and honk in stagnant air while, inside the grove, birds are always singing and a breeze is always rustling the trees. The question everyone wants answered is: Would Sam Maloof's craftsman genius have blossomed if he had not first created this world in which to live and work? In other words, did his genius create this place, or did this place create his genius?

"Oh, I don't know," Sam says. "What do you think, Freda?" Sam and Freda are puttering around their house in Alta Loma, California, at the foot of the San Gabriel Mountains. She is tidying the kitchen. He is giving a tour of the house and the 100 handmade chairs and tables, desks and settees, coffee tables, beds and dressers that decorate it, of the woodshop, of the 6 acres of lemons, peaches, pears, apricots, figs and avocados that sit like an island in a sprawling suburban sea. But this island, like Atlantis, is about to disappear forever, to be buried not underwater but under concrete, a new section of the nearby Foothill Freeway. Because Sam's house and workshop are on the National Register of Historic Places, they will be moved to a scraggly citrus grove a few miles away and turned into a working museum. Sam will design and help build a new house on the new grounds for himself and Freda.

"It's sort of scary sometimes," Sam says of his success and fame, which have seemed almost to overtake him in recent years. His furniture is in the Metropolitan Museum of Art, the Smithsonian Institution's Renwick Gallery, the White House and the homes of former presidents Jimmy Carter and Ronald Reagan. A dining room set he sold for $3,000 about 25 years ago resold recently for $150,000. One of his new high-backed rockers today sells for $18,000. "Sam's furniture embodies intangible qualities that transcend the sensory delights of sight and touch," Jonathan Fairbanks, curator of American decorative arts and sculpture at the Museum of Fine Arts in Boston, has written. Sam is hailed today not as a furniture maker but as an artist. Yet for all his success, Sam, at 82, is too militantly modest to take credit. And Freda, at 86, is too down-to-earth to think Sam — or anyone, for that matter — can deserve the world-renowned stature he has achieved.

"God's been very good to us," Freda says. "I'd say I was lucky," Sam says, "but I worked doggone hard." Freda flashes an ironic smile. "I didn't know he was going to be so famous." Sam is embarrassed. "Oh, Freda."

"Freda helped me," Sam says. Fifty years ago he was working as a graphic artist for a California company that made decals, but he wanted to quit and make furniture for a living. "She didn't say, 'You're crazy. Just stay where you are. At least you're making a living.' She said, 'If you want to do it, I think you should do it.'" After Sam lost money on his first commissioned pieces of furniture, he told Freda he was going back to graphics. She said, "No, you can do it." "You talk about faith, hope and charity," Sam says. "She had it for me. I would have given up if it hadn't been for Freda." "I was just happy he was doing something he loved," Freda says.