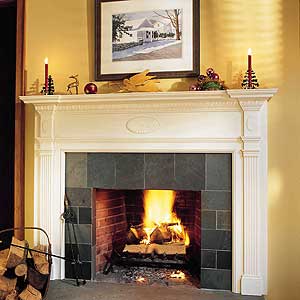 There's nothing as warm and welcoming as a crackling fire in an open fireplace. The dancing flames can lift your spirits and melt away the most stressful day in a matter of minutes. But to truly be part of the home, a fireplace must warm our hearts even when there"s no fire in the grate. That's where the mantelpiece comes in.

Like an ornate frame around a pretty picture, a mantel should enhance the fireplace while adding its own style and interest to the room. In this "Weekend Project," I"ll show you how slate tiles and a wood mantel can transform a bare-brick fireplace into the masterpiece that's shown here. And best of all, by installing a prefabricated mantel, you can complete the entire project in only three days.

It takes two days to apply the natural-slate tiles to the brick around the fireplace opening and another day to install the wood mantel (it actually takes less than two hours). The mantel shown here (Model 436, about $1,500) is from Readybuilt Products. It's made of paint-grade poplar and comes fully assembled, primed and ready for installation. The company offers more than 50 styles of mantel in red oak, mahogany, cherry and other species, with prices ranging from $350 to $2,500. For other prefab-mantel offerings, see the companies listed on the facing page.

Safety Issues
Fire prevention is always a concern when installing a wood mantel around an open fireplace. Before ordering or installing any mantel, consider the following requirements:

According to the National Fire Protec-tion Association--the agency that writes fire-safety codes--there must be at least 6 in. between the sides and top of the firebox opening and any wood that projects up to 1 1/2 in. from the face of the fireplace. Any wood that projects more than 1 1/2 in. (such as the mantel shelf) must be at least 12 in. from the opening.

Note: Every town has the power to modify the national building and fire-safety codes; be sure to contact the local building department for specific codes requirements in your area.